InfoSocial 2019
We present Northwestern University's InfoSocial 2019 conference, a student-run conference dedicated to showcasing interdisciplinary graduate student research examining the role of technology in contemporary society. InfoSocial brings together graduate students in fields ranging from Computer Science to Communication to Law to showcase their novel ideas, methods, and innovations. Come join us to to hear presentations about exciting technology research from graduate student speakers from around the world from April 12th-13th, 2019.
Conference Registration
Conference registration is free. Click here to register through eventbrite.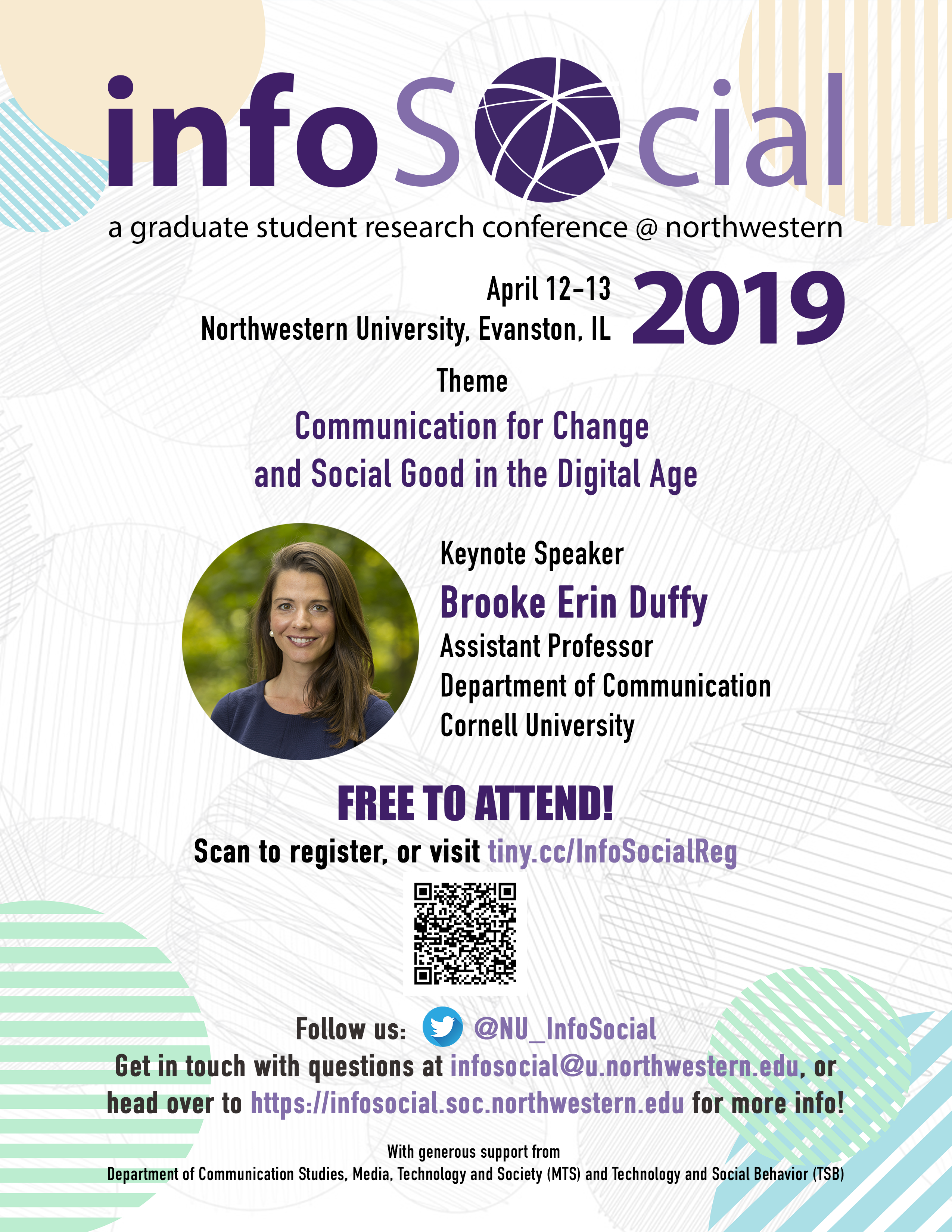 Conference Schedule
View a PDF of the schedule here: InfoSocial 2019 Schedule
Dates: Friday April 12th and Saturday April 13th 2019
Friday Conference Location:
Northwestern University, Evanston Campus. Details here.
Saturday Conference Location:
Northwestern University, Evanston Campus. Details here.
Dedicated to Graduate Students
This conference promotes graduate student research and scholarship and is a venue for us to generate constructive criticism about not only our own work, but also the direction of work across our disciplines. InfoSocial encourages the sharing, presentation, and discussion of early and developing work, and provides a venue to practice in preparation for future conferences. Graduate students who present at this venue will gain feedback from about their research and presentation. InfoSocial 2019 will bring together scholars from several disciplines, spark many intriguing conversations, facilitate new friendships, and garner constructive feedback for attendees at all stages.
Discussion Topic for this Year: Communication for Change and Social Good in the Digital Age
This year, we seek to initiate discussions about the design and implementation of technologies and ways that they institute change. We ask that you include a final paragraph in your abstract that articulates how your work connects to communication for change and social good in the digital age. For example, does your work point to new ways of using technology, or ways that communication might promote social change?
This topic is intentionally broad: it might involve taking a critical view of existing technology, designing or adapting technology for civic purposes, or how technologies can enable a 'better' future. These are topics we believe are critical for those who work in this area to consider.
Submission Guidelines
To submit to InfoSocial 2019, please prepare an anonymized extended abstract that explains your research. Please include your methodological approaches and a paragraph about the ethical and/or societal implications of your work (more specifics in the paragraph above). Abstracts should be no longer than 4 pages, double-spaced (references, figures, and tables not included toward page limit). Please format your abstract in either APA or ACM SIGCHI style. You can find example templates using Word and Latex on the SIGCHI website. When you have finalized your abstract, submit it through the InfoSocial submission portal. The submission portal will be open from December 1st, 2018 to January 26, 2019.
Accommodations
Note: There will be no fee to attend or participate in the conference. Some meals will be provided, and interested attendees may request to be housed with Northwestern students. While we can make no guarantees, we will do our best to accommodate requests.
Accessibility
The InfoSocial conference is dedicated to being accessible for participants. The InfoSocial committee recognizes that accessibility is a continuous process, both systemic and individual. If you have specific questions or accessibility needs not covered on our website, please email us at infosocial@u.northwestern.edu
Code of Conduct
InfoSocial is dedicated to a harassment-free conference experience for everyone. Please see our code of conduct and anti-harassment policy.